The New Television Ecosystem
The New Television Ecosystem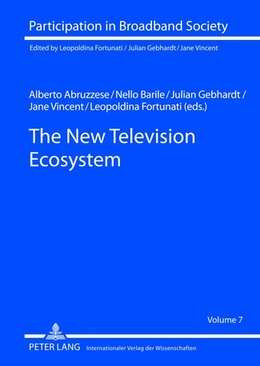 This highly topical book deals with the new frontiers of digital television addressing the challenges it faces as a result of the upsurge of new and converging digital technologies. In a world which has developed online interactivity and new roles for its users, a new scenario of the domestic sphere is emerging where television has lost its dominance within audiovisual products to the Internet, videogames, tablets, mobile phones, and more. Contemporary digital television is thus a field where different platforms, languages and formats compete in order to become the dominant standard for the future. In this new TV ecosystem audiences are negotiating their identities and are implementing practices of use which are redesigning the entire processes for TV production and consumption.
Contents: Alberto Abruzzese: Introduction - Leopoldina Fortunati/Sakari Taipale: Adoption of New Forms of Television and Emotion in Five European Countries - Nello Barile: The Age of Personal Web TVs. A Cultural Analysis of the Convergence between Web 2.0, Branding and Everyday Life - Emiliano Treré/Manuela Farinosi: (H)earthquake TV: 'People Rebuilding Life after the Emergency' - Leif Kramp: Access to Cornucopia? The Rise of a New Television Archive Culture on the Web - Fausto Colombo/Andrea Cuman: The (Old) New Value of Digital
TV as a Cultural Product - Eleonora Benecchi/Giuseppe Richeri: TV to Talk about. Engaging with American TV Series through the Internet
- Juan Miguel Aguado/Claudio Feijóo/Inmaculada J. Martínez/Marta Roel: Mobile Television, a Paradigmatic Case on the Uncertainties and
Opportunities of the New Media Ecosystem - Andrea Miconi: A Glocal Way to Broadcasting: Neighbourhood TV and Web TV in Contemporary Italy - Jakob Bjur: Social Television Ecology - The Misfits and New Viewing Practices - Bartolomeo Sapio/Tomaz Turk/Stefano Livi/Michele Cornacchi/Enrico Nicolò/Filomena Papa: User Experience of Payment Services through Digital Television.
Alberto Abruzzese is professor of the sociology of communication at IULM University, Milan.
Nello Barile teaches media studies and sociology of cultural processes at IULM University in Milan.
Julian Gebhardt is a senior researcher and consultant in innovation and design at the HPI School of Design Thinking, Potsdam.
Jane Vincent is a visiting research fellow with the Digital World Research Centre, University of Surrey.
Leopoldina Fortunati teaches sociology of communication and culture and is Director of the PhD Program at the University of Udine.
Autore: Alberto Abruzzese/Nello Barile/Julian Gebhardt/Jane Vincent/Leopoldina Fortunati (eds.)
Collana: Peter Lang - Participation in Broadband Society
Anno: 2012