Instrumentation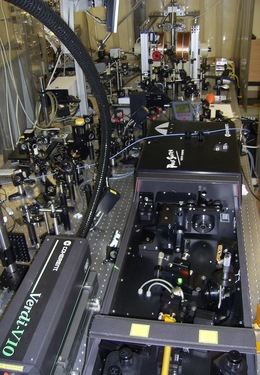 Ulysses laboratories intragrate the modern ultrafast laser sources with the traditional optical spectroscopic techniques. We are currently able to investigate the non-equilibrium electron dynamics in solid-state and bilogical systems through high resolution time- and frequency-resolved optical spectroscopies.
Our facilities...
---
OPTICS
Pharos by LIght Conversion + Parametric Amplifier
infrared/visible wavelength tunability
40 fs pulse duration
Rep. rate tunable from 400 kHz to single shot
Nireos interferometers for broadband pump-probe and 2D spectroscopy
Cavity dumped Ti:sapphire oscillator
700-950 nm wavelength tunability
120 fs pulse duration
Rep. rate tunable from 1.8 MHz to single shot
60 nJ/pulse energy
White-light continuum generation through photonic fiber
450-1600 nm wavelength tunability
pulse characterization
high-speed array detection for simultaneous time and frequency resolution
MenloSystems ASOPS
780-1560 nm wavelength output
100 MHz repetition rate
120 fs pulse duration
Optical spectrum analyzer
350-1750 nm wavelength range
0.05 nm maximum resolution
-75-20 dBm measurement level range
THz generation and detection
0.5-4 THz frequency range
ZnTe electro-optical sampling
pump-THz probe spectroscopy at low temperature
---
OTHER EQUIPMENTS
Time-resolved magneto-optics
Double lock-in configuration
50 kHz Photoelastic modulator
Electromagnet
1.2 T maximum magnetic field
Cryogenics
Open-cycle cryostat, 4.5 K minimal temperature
Closed-cycle cryostat, low vibrations, 10 K minimal temperature, equpped for low-temperature transport measurements
Reflectivity and transmissivity measurement configurations
---
MICROSCOPY
Atomic Force Microscopy
1 AFM microscope operating in the frequency modulation mode (FM-AFM)
1 AFM microscope operating in the amplitude modulation mode (AM-AFM).
Scanning-probe Near-field Optical Microscopy
1 SNOM, working simultaneously in collection mode, reflection mode and transmission mode.