New Generation in Strongly Correlated Electorn Systems (NGSCES) - Abstract submission extended until 15th June
New Generation in Strongly Correlated Electorn Systems (NGSCES) - Abstract submission extended until 15th June
5 settembre 2022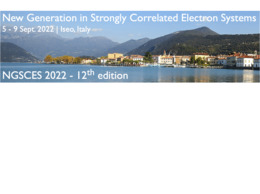 The 12th edition of New Generation in Strongly Correlated Electron Systems (NGSCES) 2022 conference will take place at the "Iseolago" hotel in Iseo, Italy, from September 5th to 9th, 2022.
The NGSCES 2022 aims to gather young experimental and theoretical scientists at an early stage in their careers in order to promote discussion and collaborations on the investigation of strongly correlated electron physics in a friendly and inclusive environment.
Topics at NGSCES 2022 include:
Novel electronic behaviour
Advanced imaging
2D materials
Developments in topology
Ultrafast dynamics
and many more!
The abstract submission deadline has been extended until June 15h!